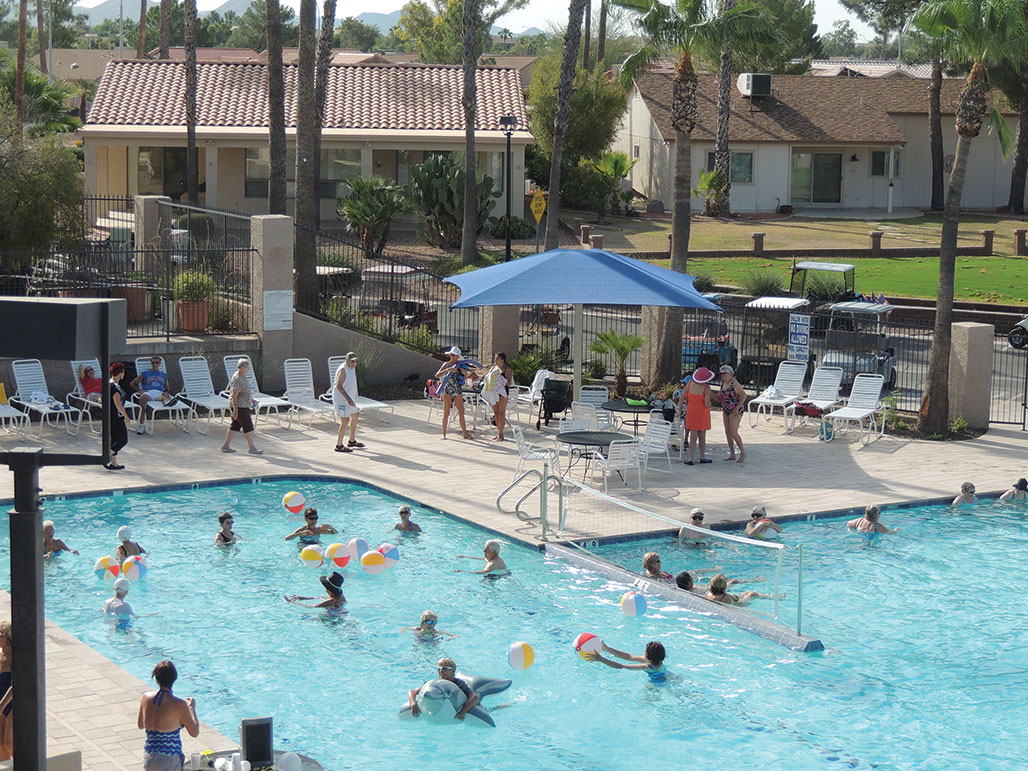 The Grand Opening for the new clubhouse swimming pool is scheduled for Thursday, October 22. The day will be filled with festivities. The theme of the day and evening is Beach Attire. Beginning at 7:00 a.m. a breakfast buffet will be hosted in the Horizon Room with door and other prizes. At 8:00 a.m. a recognition and ribbon cutting ceremony will take place at the swimming pool. Following this the water aerobics group will have a demonstration for all to watch. Also scheduled are lap swimming contests. At around 11:00 a.m. a classic car and motorcycle show will be present on Waterview Drive. For lunch the Horizon Room will be having a soup and salad bar. During this time a water volleyball tournament will be held in the swimming pool. Later in the afternoon a live musical performance will take place outside. That evening beginning at 4:00 p.m. dinner and entertainment will be hosted in the ballroom. Music will be played through dinner and the Royal Islanders, back by popular demand, will be providing Polynesian and island entertainment from 6:00 to 7:00 p.m. From then on fun, live music will be performed for enjoyment and dancing until 9:00 p.m. If you choose you may go outside to the swimming pool with your raft or chair and watch the movie Beach Blanket Bingo from the water. The night will be a great time no one will want to miss. Tickets for the dinner and entertainment are now on sale for $30 per person.
Breakfast Buffet – 7:00 a.m.
Strawberry blintz, omelet station, fruit, hash browns and tater tots, scrambled eggs, bacon, ham, biscuits and gravy, toast station and muffins for $10
Lunch Buffet 10:30 a.m. to 2:00 p.m.
All you can eat soup and salad for $10
Chili, salad mix, cheese, tomato, cucumber, shredded carrots, ham, turkey, bacon, black olives, beans, onions, croutons, almonds and broccoli
Dinner – 4:00 to 6:30 p.m. (Included in your $30 ticket price)
Roast pig, chicken with mango salsa, sweet potato poi, coconut rice, tropical fruit, Hawaiian coleslaw and Hawaiian bread. Assorted mousse duos and petit fours.