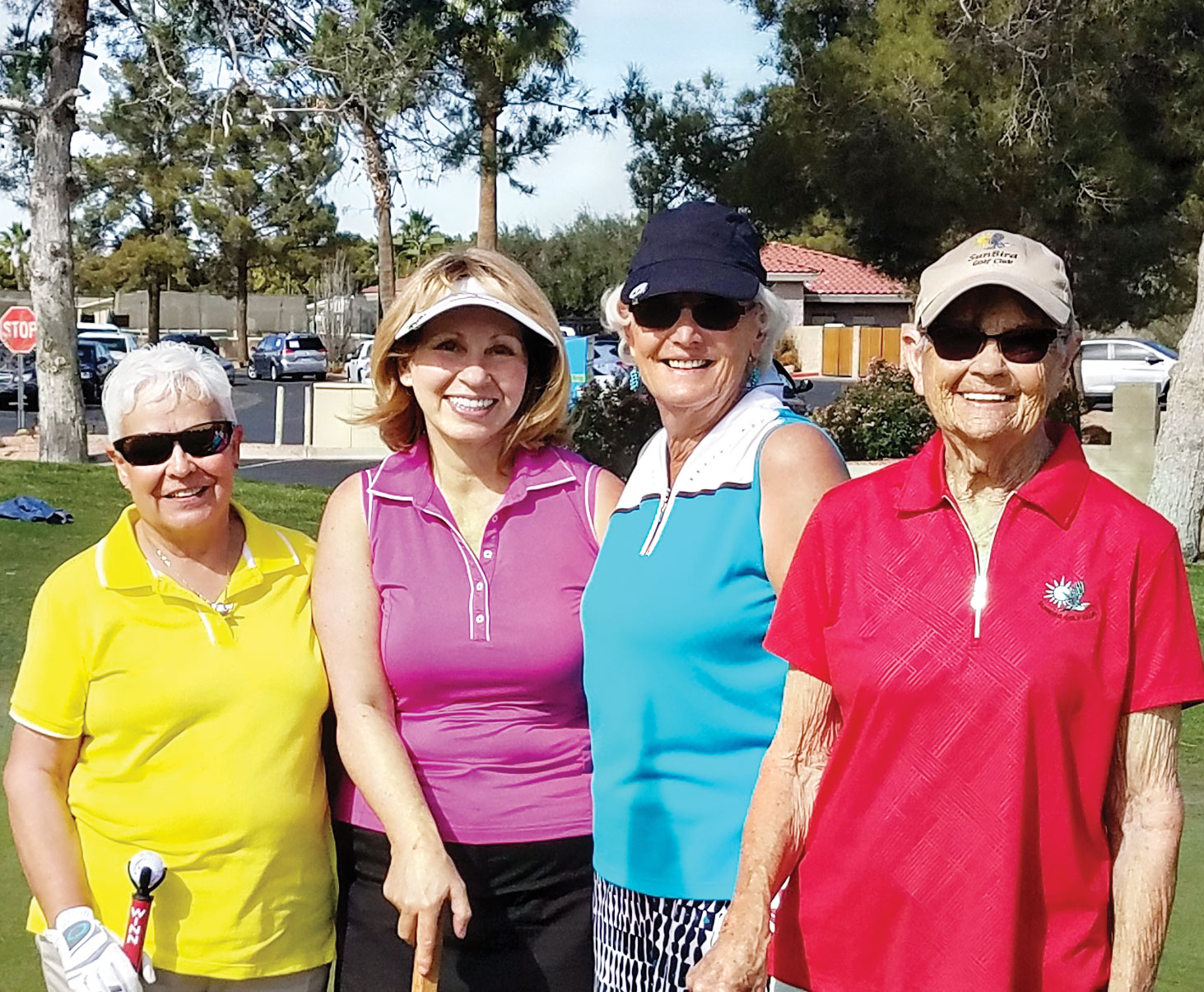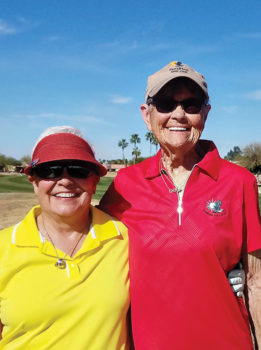 Tammy Bachofner
We have been busy so far this year! We had the Ladies Net Shoot out, the Couples Net Shoot out, the SunBird Cup and the nominating committee held their meeting, so we have a slate of candidates for the March meeting, all while playing our regular golf and having fun!
Congratulations to Lil Macpherson our 2017/2018 SunBird Cup winner! The scores were close again this year. Lil and Trish Carrel shot a combined net score of 102. So we went to a sudden death playoff where the two ladies tied again on hole one, leaving hole two to be the deciding factor. Lil was first, with Trish a very close second. Sue Koslofsky came in third and Dolly White fourth with net combined scores of 121 using the standard tie-breaker rules in our handbook to determine third and fourth place. Couldn't get much closer, ladies – way to play! A very special thank you to Cindy Vig and her team for all their help with pairings and scoring.
Now if that isn't exciting enough for a Tuesday game day, Connie Franklin decided to add a little icing to the cake by getting an eagle hole 12! Way to go, Connie! I believe that is our first eagle of the season.
A quick congratulations to the ladies who played in our Couples Net Shoot out! Dolly White and her partner took first, while Barb Wallace and Jackie Huyghebaert and their partners took second and third. Our ladies gross shot out is this month and is also an exciting event. So make plans to cheer our ladies on as they strive to make each hole count.
The nominating committee consisting of Joy Morgan, Jackie Huyghebaert, Connie Lundeen and Melissa Craig present the following nominees for our 2018/2019 Board:
Margie Leach as Vice President
Cheryl Moore as Treasurer
Lisa Onyx as Secretary
These names are posted on the sign-up board. We will be taking nominations from the floor at our March general meeting and, of course, if you are interested in any of these positions or one of our committees, please contact Melissa Craig. It's not too late to jump in and help! The final vote takes place at our March meeting. For informational purposes only, in accordance with our by-laws, the current vice president automatically steps into the position of president.
A very special thank you to the ladies on our nominating committee and to all of you who volunteered to be on committees. We should have an updated list next month.
Upcoming events:
March 4 – Couples Gross Shoot out
March 6 – General Lunch/Board meeting
March 13 – Week one of "Club Championship"
March 20 – Week two of the "Club Championship"
March 29 – Ladies golf with men. Awards BBQ to follow
Until next month, hit 'em long and straight, but most of all, have fun!