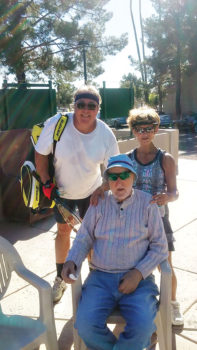 Christine Terechenok
Five FREE tennis lessons are available to residents of SunBird – beginner program given by a professional tennis coach. This offer will consist of an orientation/meet-the-Pro evening. Following will be once-a-week lessons for the next five weeks. Be thinking about this great opportunity, come out and have some fun, enjoy the weather and be ready to play in the fall.
Holly Benson, tennis member, put in several hours of hard work to renovate the tennis information board at the courts. Thanks go out to her for reorganizing and painting the board in our tennis colors, red and black. Here you can find all the latest activities of the club and the court reservation sign-up sheets for play on the courts.
The tennis court has scheduled activities for the months of May through October 2017. Color code: Blue is pickleball court times, yellow is tennis court times and white is open play times. Don't forget to sign up this summer.
The tennis club meetings are over for the summer; the next meeting will be November 7, 2017.
Some residents will be leaving for the summer. We wish you a safe trip home and a great summer. For those staying in Arizona, try to keep cool and have a fantastic  summer.