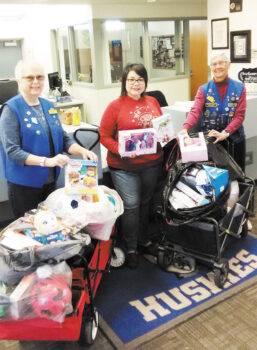 The SunBird Lions Club members donated 136 new toys to the children at the Hartford School. Lions Carol Zittle and Pat Scott delivered all the games, dolls, trucks, cars, balls, etc. to very excited children, making their holiday extra special. This is just one of the many wonderful projects that the SunBird Lions Club does throughout the year. You, too, are welcome to join the SunBird Lions Club and feel the warmth of giving all year round and meeting amazing people who share in volunteering. We wish everyone a very Happy New Year.
Be sure to attend our No Pancake Breakfast on Feb. 8. Join us for bingo in the SunBird ballroom the first and third Friday of the month until April, 6 p.m. to purchase cards and 6:30 p.m. to start
Reminder—we now double your chances to win. Caller will explain.